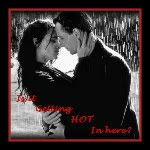 Hello love birds! I hope you all are having a fabulous Hearts Day:)
Look, I know the real reason you're here. It's for the hot juicy action!
Hope
and
Cassie
were thoughtful enough to know we needed to heat things up this Valentine's Day so they put together a super spicy blogfest.
To get in on the swoonworthy fun go
HERE
.
Here is what we are supposed to do:
Please share one of your favorite kissing scenes from a book you've read, from your own WiP, make one up, or write about one of your own memorable kisses. Then hop around to feel how sweet, romantic, or downright steamy other characters are getting smooched!
I chose to share a kissing scene from Colleen Houck's Tiger's Voyage.
My favorite kinds of kissing scenes are often times the ones that lead up to the mega kiss. I love the emotional flirting, those, "Oh my gosh, is this really gonna happen?" moments.
This is one of those to me:
"Give it a rest Shakespeare. I'm not a shrew to be tamed. Like I told you last night, I'm dating Kishan now."
"Really?" He stood and stalked toward me.
All of a sudden I couldn't breathe. I kept backing up until I hit the wall. He pressed his hands against it on either side of my head and leaned in close to me. I stubbornly thrust out my chin, refusing to be intimidated by him.
"Yes. I am. It's a good thing I came here to talk with you about it anyway. I don't want...you chasing me around or making things," I swallowed thickly, "difficult."
Ren laughed throatily and leaned closer to nuzzle my ear. "You like me to be...difficult."
"No." I groaned when he bit my earlobe. "I want my life to be simple and comfortable. And with Kishan it will be."
"You don't really want something simple, do you Kelsey?" His lips pressed against the soft skin behind my ear, and I shivered. "Complication," he began trailing slow, teasing kisses down my neck, "is what makes life," he cupped the back of my neck and slid his hand into my hair, "exciting."
I turned my face away, but he just took the opportunity to explore more of my exposed neck.
"Love is complicated, iadala. Mmm, you taste delicious. Do you know how good it feels to be able to touch you without pain? To kiss you?" He pressed tingling kisses along my jaw, and whispered, "I want to drown in the pleasure of being close to you."
I groaned and gripped his upper arms. Speaking of drowning, I was going under, and fast. Blinking open my eyes, I grabbed his shoulders, faced him, and used all my strength to push him away, but he only backed off a few inches.
"That's it, Ren. I mean it. Read...my...lips. I want Kishan. Not you."
His eyes tightened, but then shone with a wicked gleam. "I thought you'd never ask." Suddenly, he yanked me into his arms. One of his hands splayed against my back and the other slipped into my hair. He angled my head and crushed his mouth against mine....
MUCH KISSING MUCH KISSING MUCH KISSING
....."Hmm," he trailed his finger from my temple down my cheek to my lips and touched the bottom lip lightly. "That's interesting."
Sighing, I asked, "What's interesting?"
"Despite you protestations, I would say that your lips definitely want...me."
And then it goes from there. Love it! I can;t wait to check out the rest of the hot and heavy scenes. If you want to join me go
HERE
I hope your V-day is as complicated and interesting as Kelsey and Ren's!