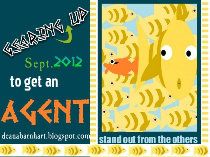 UPDATE #2: 1st GUTGAA WINNER!!!
What a great 1st week!! The time has come to give away a little something to one of you fabulous people. If you look to the right sidebar under Helpful GUTGAA links, you will see the Prize Center. You can find the winners and what they've won there. Have a great weekend!
UPDATE: The submission window for the pitch polish is now closed. If you didn't get an email, then I'm sorry, but you didn't get in.
If you still want eyes on your query and first 150 words, scroll down and sign up on the pitch polish blog hop. This hop will not be anonymous like the one on my blog, but can be just as helpful!
Today's the day! If you're looking for some guidance on your query and first 150 words, you've come to the right place.
At 11 AM EST I will be opening up the window for you to send me your query and first 150 words.
I can only take the first 100 correctly formatted entries.
So please read the following information closely.
You must be signed up for GUTGAA
HERE
if you want to join in this Pitch Polish
Subject line in the email needs to read:
Pitch Polish Entry
Format required:
First 150 words. If your 150 ends in the middle of a sentence, you may finish the sentence.
Please email the query and 1st 150 words to:
deanabarnhart(at)gmail(dot)com
Here are a couple of other things to take note of before sending off your query:
-If you do not make it into the pitch polish, no worries. After I have sent a confirmation email to those that made it through, I will update this post with a linky list. If you didn't make it in, have a blog and still want to get some pitch feedback, sign up on the linky list for a fun little Pitch Polish blog hop next week.
-Monday I will post the 100 entries that made it through on my blog for
constructive
criticism. Please no rude comments. If something in a pitch doesn't sit right with you, there is a professional to leave your opinion. "I'm not a fan." "This sucks." And other such comments are not helpful. The whole 'golden rule' totally applies here!
-If you make it in, you will be required to read through some of the other pitches and help them out. Again, golden rule please:)
-Check the #GUTGAA hashtag for updates for when the window opens and closes.
As always, if you have questions please leave them below in the comments section.